Find out more about Carole Da Costa the WWRA candidate for the new ward of Clewer and Dedworth East in Windsor.
---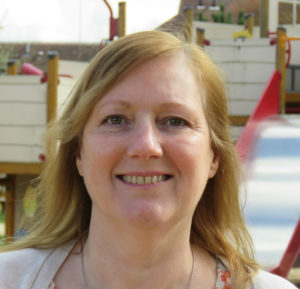 At its AGM on 7 March 2019, West Windsor Residents Association (WWRA) members unanimously approved that Carole Da Costa should represent residents in the new ward of Clewer & Dedworth East at the local election on 2 May 2019.
More about Carole Da Costa
WWRA Committee Member, Carole is a volunteer with the "More Than a Shelter" as such she is very aware of the complex housing needs, both for young families trying to set up home in this expensive area; and those who find themselves with no home at all.
She supports the award winning Food Academy that helps young people to grow in confidence and avoid problems in school.
Carole is an original member of Plastic Free Windsor, with a passion for finding workable initiatives to protect the environment while connecting communities
Carole has lived in Windsor for 22 years and her children grew up here. As a local community midwife she has helped hundreds of families over the last 19 years. Carole has a passion for enabling and empowering people, whether that's through work or volunteering.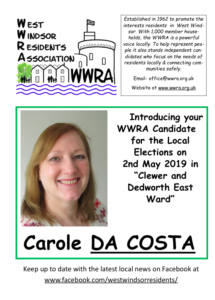 She is married to Wisdom Da Costa, an experienced councillor, the current Independent Councillor for Clewer North.
She is a mother, grandmother a dog lover, and beekeeper with two Battersea dogs
You can download Carole's information leaflet here (click here).
To help Carole with her campaign email office@wwra.org.uk
To find out more about the WWRA and join, click here.